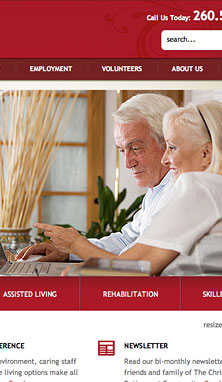 PROFESSIONAL WEB SITE DESIGN - GATEWAY WOODS CASE STUDY
Christian Care Retirement Center came to us with a site that targeted four distinct audiences, spanned more than fifty pages, and had no clear logical structure. With content that overlapps interest with multiple audiences, the challenge was to effectively target each interest group without duplicating content or making the navigation confusing.
Any successful design must always bear in mind The Four Pillars of SEO:
RESEARCH the best search terms to target, and look at what the leading sites for each keyword are doing well
Develop CONTENT that addresses the needs of each audience that is looking for your identified search terms.
Make sure your site's CODE and page structures are SEO-friendly
Get traffic and develop INBOUND LINK REFERRALS from other reputable sites
With these principles in mind, we worked with Gateway page-by-page, to develop copy that speaks exactly to audience needs and stays true to the brand's core mission, values and personality.
» VISIT THE CHRISTIAN CARE WEBSITE