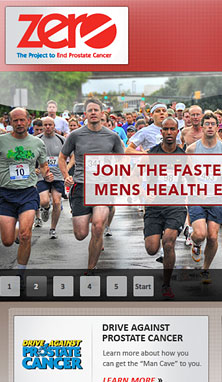 SEARCH ENGINE OPTIMIZATION (SEO) CAMPAIGN - CASE STUDY
A while back the National Prostate Cancer Coalition (NPCC) organization rebranded itself to become ZERO — The Project to End Prostate Cancer. The effort included a site redesign, content overhaul, and new address. Between moved content, the change in how pages flow, and the new identity, ZERO's rebranding sharply reduced web traffic to the site.
Floyd & Partners quickly carried out a Search Engine Optimization (SEO) campaign to counteract the organization's sudden decrease in visibility. Beyond restoring previous traffic, the goal was to "convert" visitors by having them participate in member or newsletter sign-up forms, sending advocacy letters, or participating in fundraising. To accomplish this goal, F & P carried out a four-tiered campaign including KEYWORD RESEARCH, CONTENT DEVELOPMENT, CODING, and LINK DEVELOPMENT. In the first three months of this ongoing campaign, we evaluated more than 300 targeted search phrases, analyzed more than 5,800 links, contacted more than 750 webmasters, changed code on more than 150 pages, and secured over 360 new or refined links to ZERO's website. As a result, the client realizes a doubling of online donations that it had collected over the previous six years.