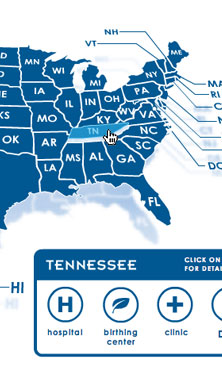 RICH MEDIA & ADVANCED PROGRAMMING
Rich media covers a range of technologies, from simple dynamic coding and streaming video to complex interactive media and buzz-wordy "Web 2.0" techniques like widgets, AJAX, SilverLight, AIR, Ruby on Rails, ARGs, etc.
Vice is often an excess of virtue. Rich media should be used wisely, lest it overshadow your brand and become the main attraction (or worse, a deterrent) to your customers. For example, the National Safe Haven Alliance's website features a law clearinghouse that is used regularly by press, government, and call centers across the U.S. Floyd & Partners created an interactive state map that lets users find the data they need within seconds, then drill down towards more information as needed. Equally important, the map is created in a way that is completely accessible to older browsers, vision-impared users, and search engines.